It's widely known that advertising and marketing agencies are known for informal dress code and laid-back culture. As the temperature heats up outside, fellow employees tend to ramp up their fashion game in the office. In the spirit of the first day of summer, a few Masterminders are diving deep into agency summer fashion do's and don'ts, and giving you our take on where the line should be drawn between casual and well, entirely unprofessional. After all, what you wear is a form of advertising, right?
1. When in Doubt, Denim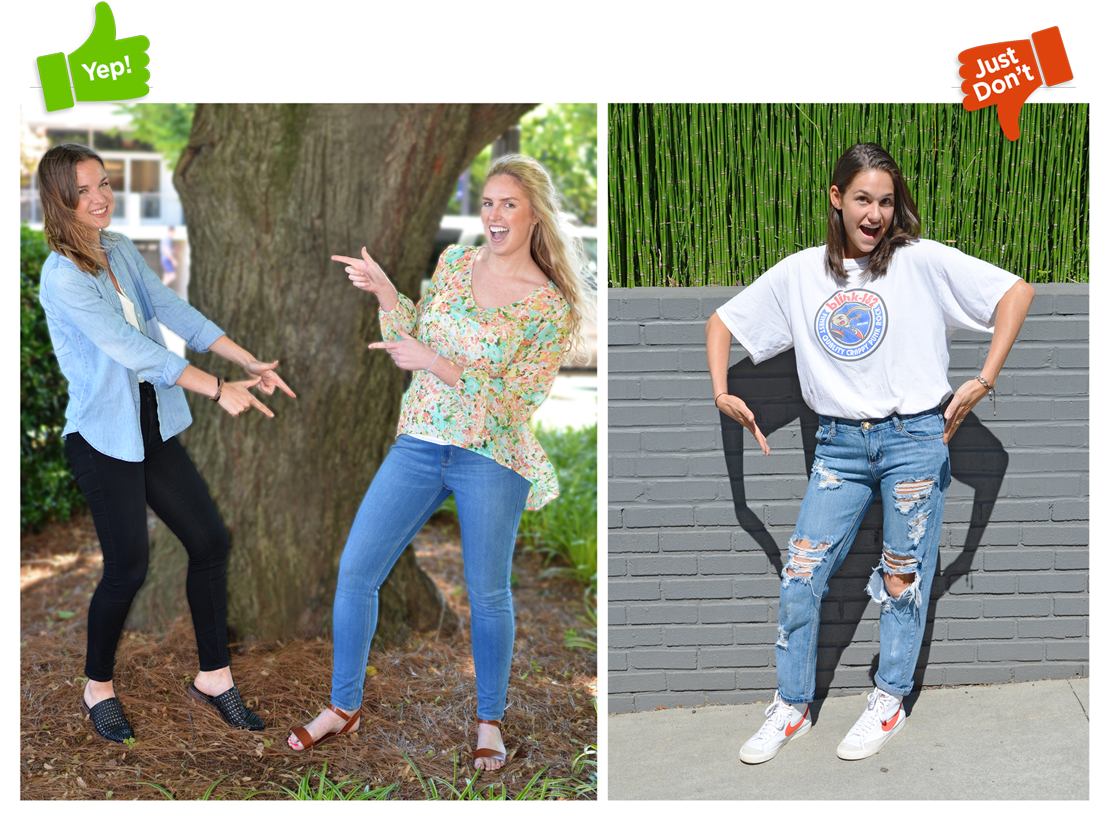 Jeans and denim clothing are a common trend in the agency world, but believe it or not there are several ways to mess it up.
Do – Go for a nice pair of comfortable, well-fitted dark washed jeans. Try mixing and matching different shades of denim for your top and bottom or go all in for the Canadian tuxedo if you are THAT person. Denim dresses and skirts are also fair game if at a tasteful length. Lastly, jean jackets are the holy grail for year-round layering, and the perfect solution for those frigid conference rooms.
Don't – From the culturally appropriated boxer showing sag, to dad jeans with woven belts, jorts, and acid washed or overly distressed jeans, it may be best to leave all of the above at home.
2. Festival Fail

With a season full of music festivals and good vibes, it's tempting to carry your Coachella-inspired attire into Monday morning. We highly suggest you re-evaluate that decision before losing your dignity, office reputation, and maybe even your job.
Do – Depending on your style, there are a few pieces you could get away with both at festivals and work. Flowy, non-revealing tops and dresses in floral prints work well in both scenarios. Kimonos are also acceptable, and are a fun way to add color and a lightweight layer to your outfit.
Don't – Not to kill your vibe, but it's probably safe to say you can leave the flower crowns, crop tops, fanny packs, cut offs, and bandanas at home.
3. Beach Please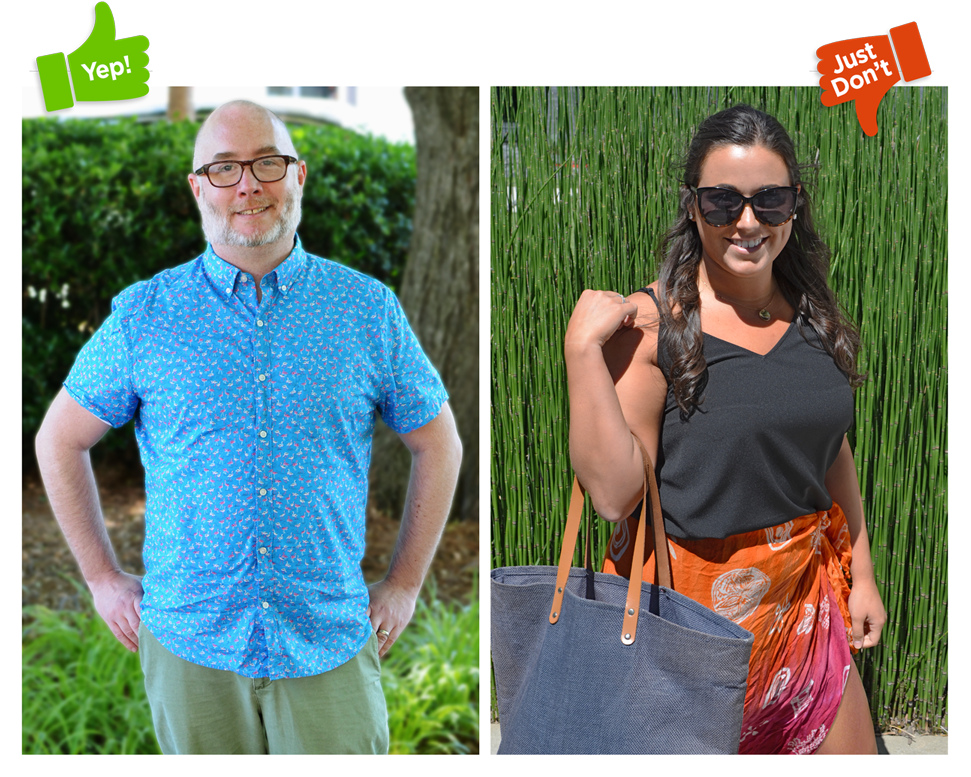 Believe it or not, most attire that's appropriate on the playa doesn't translate well into the break room.
Do – Showing the shoulder with a sleeveless blouse is completely acceptable for women, but keep a light sweater on hand to shield from the blasting AC. Achieve a relaxed, beach-inspired look by wearing lighter fabrics like linen and cotton in soft blues, white and khaki or even try incorporating tropical prints. Complete your look with a beachy woven straw bag. Last but not least, baseball caps are fair game on Friday's.
Don't – It goes without saying that cover-ups, swimsuits, cutoffs and revealing tanks are to be kept in your beach bag. And yes, even the infamous beach body tank.
4. It's T-Shirt Time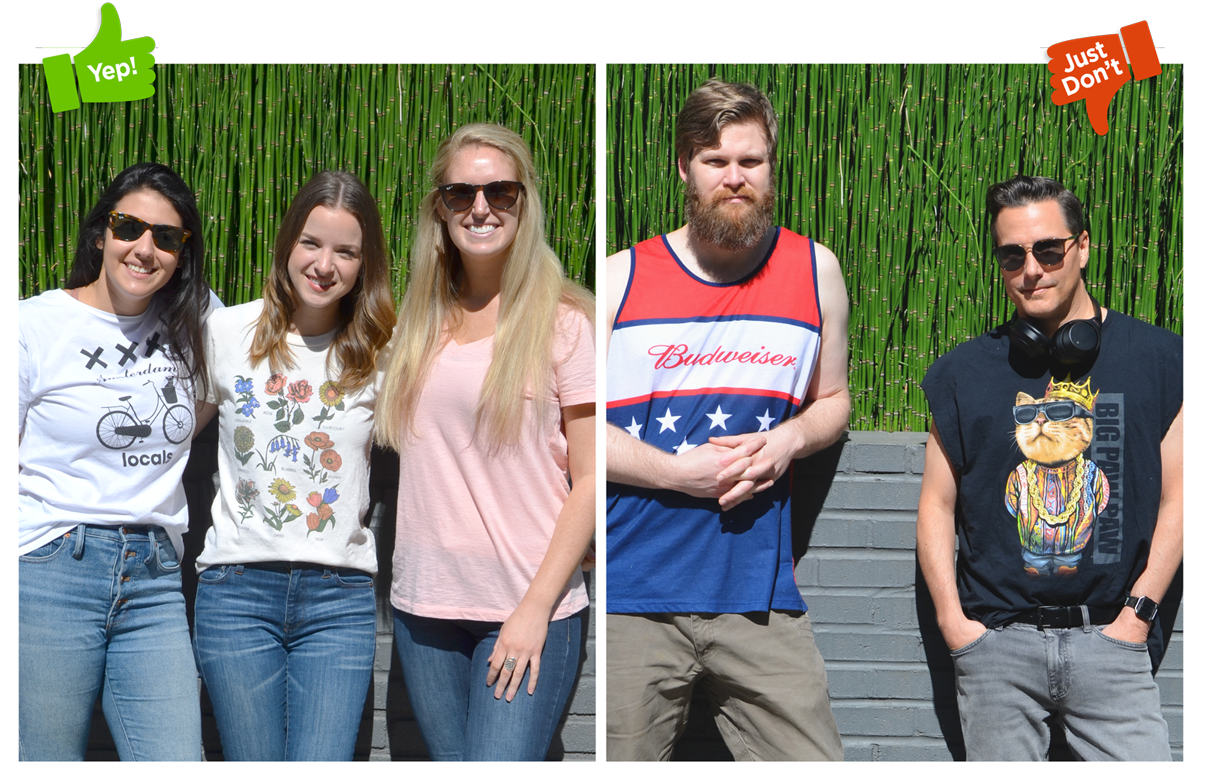 Tees are a casual staple in most summer wardrobes, but there's a difference between showing a little personality and shouting it with a bullhorn.
Do – Aim for a good quality solid color or printed tee, ideally wrinkle-free. Whether you go for a crewneck or V-neck, assure the fit is both flattering and doesn't look like an under shirt. French tucks are encouraged.
Don't – Go ahead and keep those ironic slogan, Greek life, alcohol related, and wrinkly t-shirts out of the workplace. It's for your own good, trust us.
5. Step Up Your Shoe Game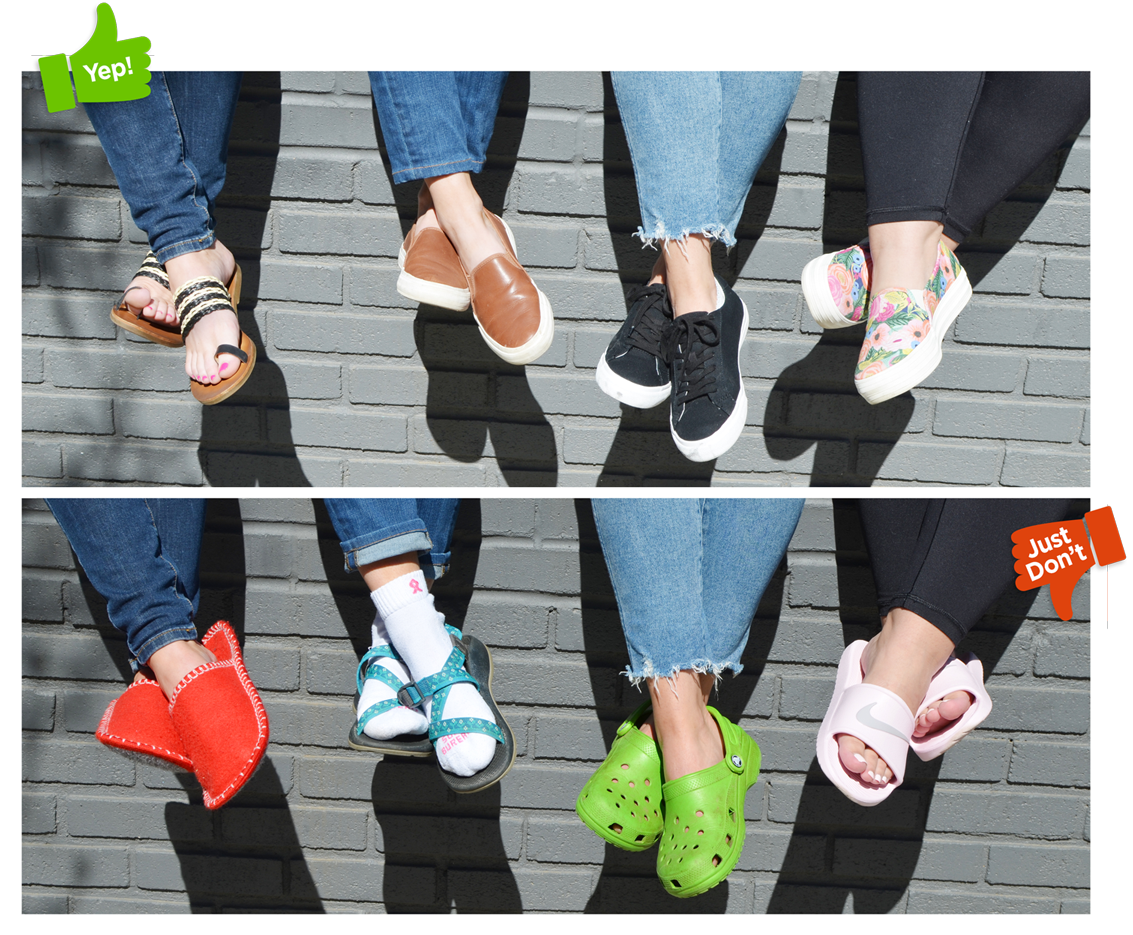 Can't walk a mile in your shoes? That's a good sign you shouldn't be wearing them to work. Your choice in footwear speaks volumes about your personality, so choose wisely!
Do – Green light to mules, low heels, strappy sandals, loafers, drivers, sneakers, wedges, and fun flats. Go for 'no show' socks depending on the type of shoe.
Don't – We get it, comfort is key, but red light to socks and sandals, flimsy rubber flip flops, Crocs, Chaco's, and Birkenstocks. Needless to say, flashy pumps and ultra-high heels can also be kicked to the curb – save them for the club!
Moral of the story, if you're one of the lucky ones that works in a casual agency environment, embrace it! It's possible to dress casually while still looking polished and expressing your creativity. Taking care of yourself gives the impression that you are taking care of your clients.
For more updates on agency life and industry news updates, subscribe below.